Zonta Club of St. Catharines
Empowering women through service and advocacy in our community and globally
Zonta International is a worldwide service organization of executives and professionals working together since 1919 to advance the status of women worldwide through service and advocacy.   Zonta International is comprised of over 30,000 members and 1200 clubs worldwide that are organized into 32 districts.
The Zonta Club of St. Catharines was established in 1929 and is in District 4 Area 3. Members actively support organizations and individuals that assist women and children locally and abroad. Our club makes a difference by addressing various women's issues including health, education, poverty, employment, security and much more.  Our club meets the third Monday of every month from September to June at Johnny Rocco's Italian Grill, 271 Merritt Street, St. Catharines.
A portion of our service funds are sent to Zonta International to support programs at the global level that help improve living conditions for women.
I've learned that you shouldn't go through life with a catcher's mitt on both hands; you need to be able to throw something back.
Maya Angelou (author, poet, activist and Honorary Zontian)
Scholarships & Awards
We sponsor the Young Women in Public Affairs Award to high school girls, and the Jane M. Klausman Scholarship for Women in Business to undergraduate and post graduate female students.
Equality
Gender equality is a basic human right and its achievement has immense socioeconomic implications. Yet, gender inequalities are deeply rooted in every society.
Global Impact
Zonta Says No:
"Through the Zonta Says NO to Violence Against Women campaign, Zonta clubs around the world are uniting to raise their voices to bring awareness to this issue and advocate on behalf of gender-based violence survivors." Sharon Langenbeck, Zonta International President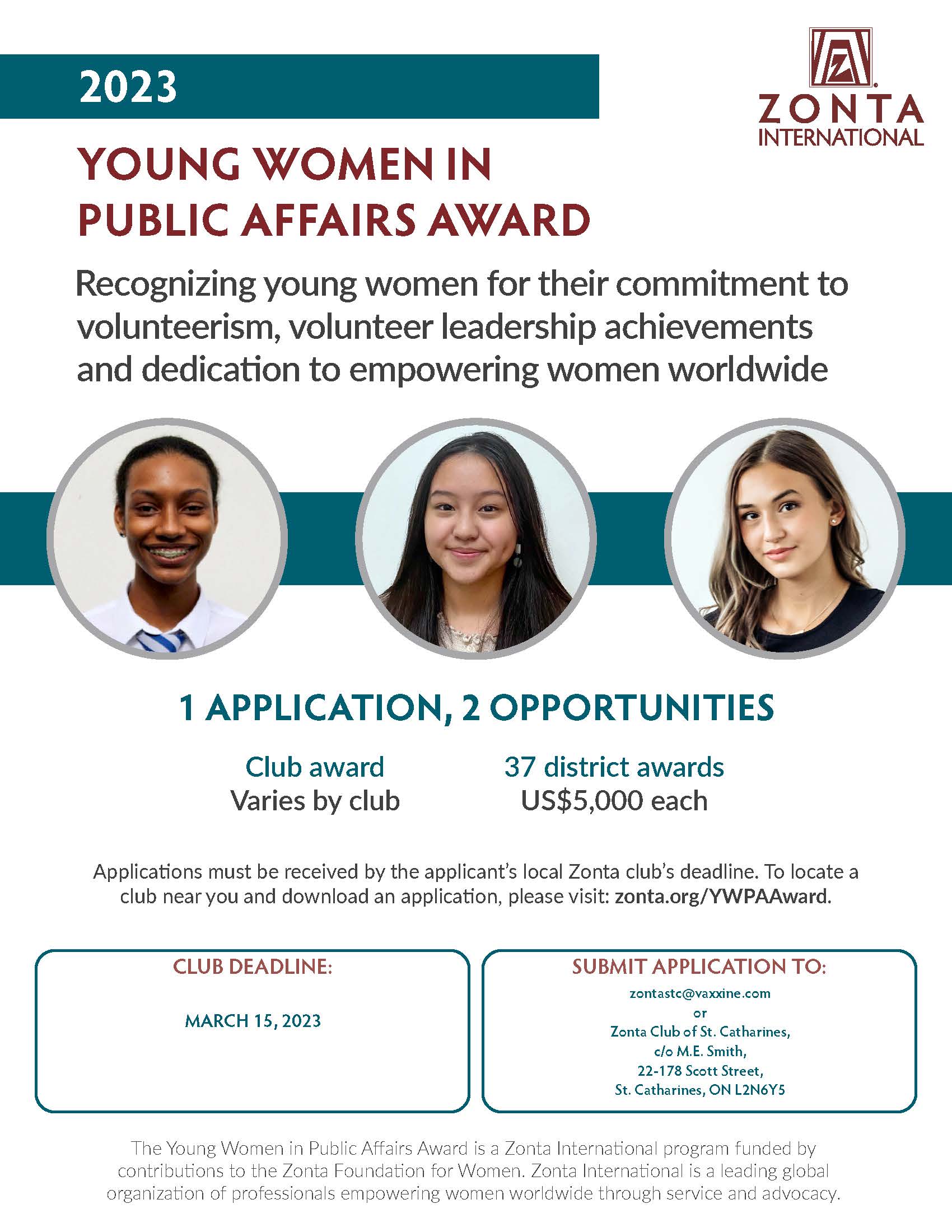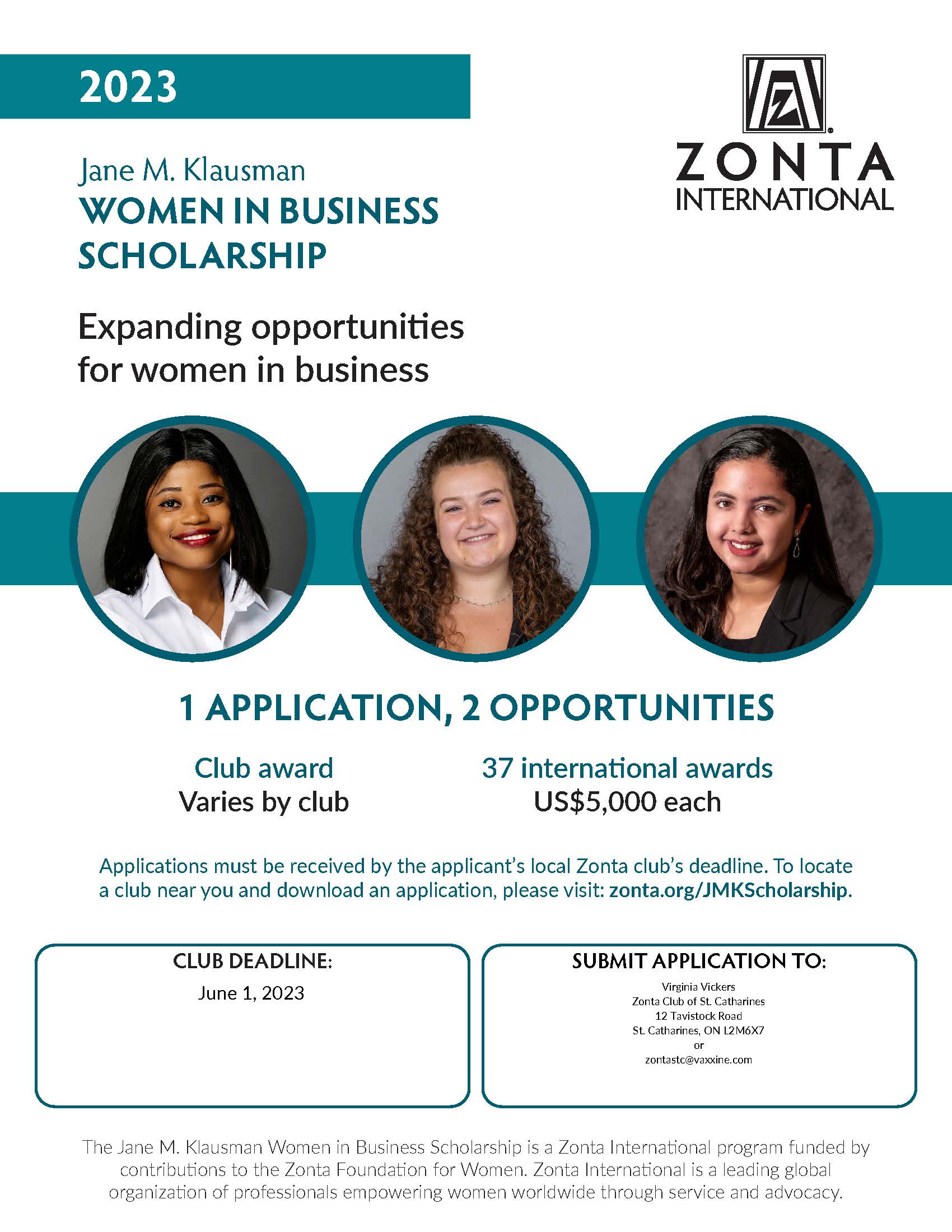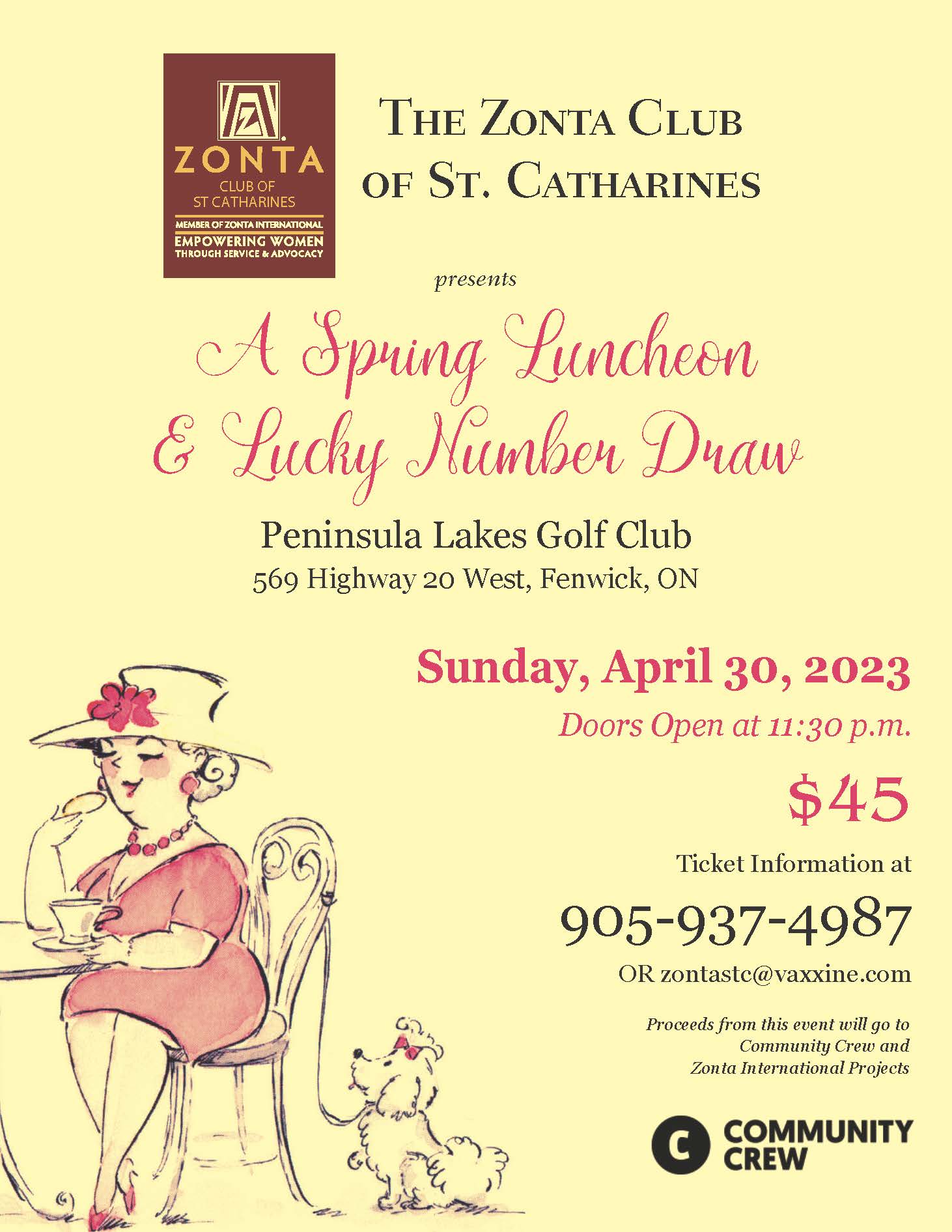 Zontians believe in making the world a better place by empowering women. We envision a world in which women's rights are recognized as human rights, and every woman is able to achieve her full potential.  We focus on advocating for gender equality, ending gender-based violence,  ending child marriage, and expanding access to education. To achieve these aims on both a global and local level is the mission of the Zonta Club of St. Catharines, and we support the efforts of both Zonta International and organizations in the Niagara Region working towards these ends.
We work towards achieving our aims by fundraising for non-profit agencies working hard in our community to assist vulnerable women and children. We publicize our Zonta Says No Campaign to eradicate violence against women and promote greater understanding of the need to reduce violence against women in our own community. We sponsor educational awards to assist young women with the expenses of post-secondary education.  Working alone and in partnership with other Zonta clubs in our area, we provide supplies to local shelters, and women in other countries, particularly those giving birth in exigent circumstances.
A Message From Our President
Welcome to our web site.  Here you will find our major goal reflected: to improve the legal, political, economic, educational, health and professional status of women at the global and local level through service and advocacy. We are part of a world fellowship of members promoting justice and universal respect for human rights, and we dedicate our efforts to implementing service programmes that improve our local and global communities. That can be through fundraising to support agencies and non-profits doing vital work to help St. Catharines' residents be safely housed, and well-nourished, to help young women realize their dreams of being well-educated, to prevent gender-based violence and counter its effects on the victims and their families. It also can be through gathering and donating necessary supplies. The same themes permeate the current projects of Zonta International which include four different scholarship programmes, and through UN Women, assistance to young girls in Madagascar to keep them in school, the fight to eliminate child marriage, assistance to survivors of Gender Based Violence in Papua-New Guinea and Timor -leste, and protection for adolescent girls in Peru through timely health care and preventing violence in schools. The Zonta Club of St. Catharines is a cohesive team, committed to working together to make progress on all these fronts. It is engaging and challenging work, and we welcome new members with the desire to contribute their time and skills. I invite you to look at the Membership page, contact us, and arrange to join us for a meeting to see why I am proud to be the President of the Zonta Club of St. Catharines.
Virginia Vickers,
President, 2021-2022