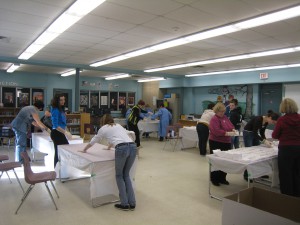 The Zonta Club of St. Catharines along with the Zonta Club of Niagara Falls, Ontario, meet to assemble birthing kits a few times a year.   Once completed the kits are sent to midwives, health workers and nurses in rural areas of developing countries. These kits provide the essential items to promote a safe, clean delivery and to encourage good aftercare.  Each year we completed between 800 and 1000 birthing kits destined for third world countries.
View Upcoming Events
What is in a birthing kit?
1 plastic sheet (1m x 1m or 36" x 36")
3 umbilical cord ties
1 pair of gloves
1 razor blade
5 gauze (4"x 4") squares
1 piece of soap